Banquets/Room Rental/Contact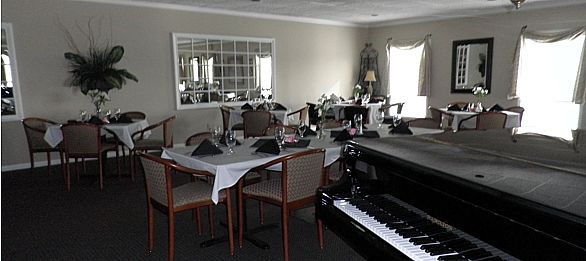 Wedding Receptions
Birthday Parties
Holiday Parties
Business Lunches
Bridal Showers
Baby Showers
Class Reunions
Family Reunions
Shannon Jinkens
Clubhouse Manager/Event Coordinator
Lou Anders
Executive Chef
Call to reserve: 309-833-2177
The Banquet Room
The Banquet room can accommodate groups of 20-125 people; we charge for a minimum of 20 people. The room is reserved on a six hour basis. Overtime arrangements must be made in advance through the banquet manager. The club lounge is restricted for members only.
Guarantees
It is required that the Banquet Manager be notified of the exact number of guests seven business days before the event. The number is not subject to reduction, and will be considered a guaranteed number, for which you will be charged, even if fewer guests actually attended.
Food and Beverage
The Macomb Country Club will not allow its guests or their guests to bring in or take out any food or beverage of any kind. Proper ID is required for alcohol service, and we reserve the right to refuse service to anyone at any time. If a special occasion and cake or champagne is brought into the club, an additional charge of $5.00 applies to cake cutting and $1.00 per bottle for champagne/wine uncorking.
Contact us for additional pricing details.
Room Fee
Weekday
$100.00
Weekend
$200.00
Setup
$25.00 (half) – $50.00 (full)
Alcohol Fees
Domestic Keg
$150.00
Import Keg
$175.00
Bar Setup
$25.00
Tent Rental
Without room
$100.00
With room
$50.00
Side Rental
$50.00
Out of Season
$150.00
Extras
Dance floor setup
$50.00
Wine
Price varies by bottle
Linen fee
$25.00 (20-50 people)
Linen fee
$50.00 (50-100 people)
Linen fee
$75.00 (100 & up)
Questions and reservation requests sent through this form will be delivered directly to our club's event coordinator. To submit pro shop questions or broader inquries regarding the country club, please use our general contact form.
You will receive a confirmation from a member of the Macomb Country Club staff if your reservation has been accepted.